You are a few short steps away from trusted medical care around the world!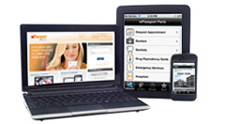 "I found HTH online tools incredibly helpful to look up brand names of medicines in other countries. When I traveled from the US to Colombia and Ecuador, I knew I would need new prescriptions during my trip—as they could not be filled for a long enough period in the U.S. prior to my trip. When I went to a pharmacy to get new prescriptions while in Ecuador, I had no problem finding what I needed."
—Ruth G.
"I was able to look up a doctor in London online and make an appointment with him the same day. He was professional and friendly, and the whole process couldn't have gone more smoothly. I was very happy to be able to connect with a qualified professional when outside the U.S. right away."
—Ivan S.
At Home or On the Road
mPassport is available on your laptop or smartphone. iPhone users can download our iPhone App (subscription required).
* Required field.
Member Information